Features

The Elvoron LU/LA Elevator is equipped with many standard features, setting them apart from the competition. Some of these features are listed below.
Available in 3 standard car sizes as well as custom sizes up to 18 square feet
Standard Car SizesAvailable in 5 car configurations, including multiple door configurations

48" x 54" (1220mm x 1372mm)
42" x 60" (1067mm x 1524mm)
51" x 51" (1295mm x 1295mm)

Wide choice of laminate car wall panel colors
Choice of three car and wall fixture colors
1:2 Cable Hydraulic Drive
Quiet submersed pump and motor
Two speed hydraulic valve for smooth start and stop
Rated load: 1400lbs (635kg)
Standard travel speed of 30 feet per minute. Optional: 40 fpm (0.2 m/s) - contact Garaventa
Travel range: 25ft (7.6m). Optional 50ft (15.2m) - contact Garaventa for more information.
Make up to 6 stops or have a total of 6 landing doors
Fully automatic push button operation
Illuminated buttons and digital floor display
Automatic car lighting upon passenger entry
Recessed ceiling lighting using low-voltage halogen fixtures
Full length handrail located below the car operating panel (additional handrails can be added)
Car operator with integral gate switch
Car direction lantern comes with audio and visual signals
Full height photo-electric door sensors
Emergency backup power system for lights, locks and door operators
Emergency alarm button
Keyed emergency stop switch
Floor specific emergency battery lowering system
Emergency manual lowering system
UL or CSA certified components
Description

The Elvoron LU/LA Elevator is a limited use limited application commercial elevator designed for low rise situations. It is fully automatic in operation and is very similar in look and feel to larger commercial elevators. The Elvoron LU/LA elevator provides vertical access for everyone, including able bodied passengers, persons with disabilities and even children in strollers. This compact elevator can also be highly customized and used in luxury residential applications where the characteristics of a commercial elevator are desired.
Regarding LU/LA Elevators:
Local code authorities may have a limit on travel, capacity, car sizes and speed. For clarification of the code requirements in your area, contact Garaventa Lift before starting your project planning.
Drive and Control System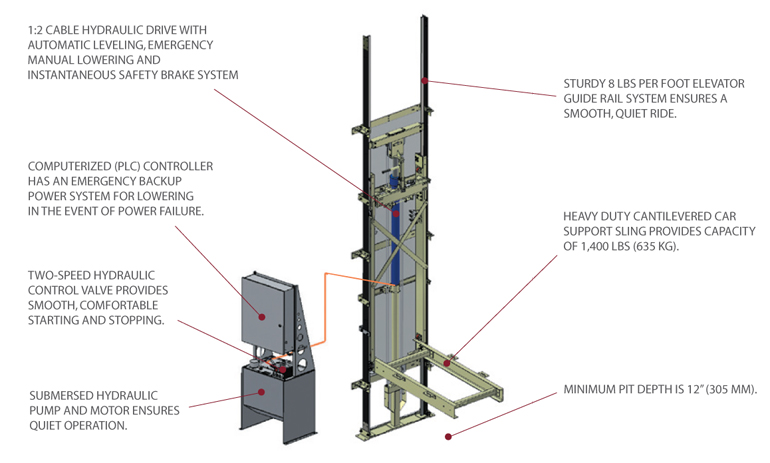 Drive System
1:2 Cable Hydraulic Drive
Single stage hydraulic jack and two 3/8" cables
Two speed control valve for smooth start and stop
Submersed pump and motor assembly for quiet operation
Low oil protection circuit
Capacity of up to 1,400lbs (635 kgs) available
Standard travel speed of 30 feet per minute. Optional: 40 fpm (0.2 m/s) - contact Garaventa
Travel range: Standard: 25ft (7.6m). Optional: 50ft (15.2m): contact Garaventa for more information.
Fully automatic push button operation
Safety Features
Emergency backup power system for lights, locks and door operators
Emergency manual lowering system
Safety Brake System
Emergency stop and alarm
Automatic bi-directional floor leveling
Slack/broken cable safety brake device
UL or CSA certified components
Power Requirements
Standard power supply is 208 VAC three phase, 20 Amps
Optional power supply is 230 VAC single phase, 30 Amps